Today I'm sharing my top ten hair and skin care products. Taking care of your hair and especially your skin is so very important. It's smart to take the extra time and money to devote to these things. These are my favorite every day products, but I'm always trying different ones and finding new products that I like!
Coconut Oil- This seems to be a trendy product to use right now. So I wanted to see what all the hype was about. Well, it's true folks, this is a universally amazing product! I put it on my entire face and dab it under my eyes before bed every night. It's extremely moisturizing, and everyone needs to moisturize daily no matter what kind of skin you have! Yes, that's right, even if you have oily skin like me, you better still be moisturizing! I've also used coconut oil as a hair mask. I'll leave it on my hair for about 30 minutes and then wash it out good. It makes my hair feel so much healthier and extremely soft! You can cook with it too! Try it out!
Purple Shampoo- This is great for blondes! My friend turned me on to this recently and I was shocked at how well it worked. If your anything like me, I like my blonde to have an ash tone, with no golden tones or brassy tones, and this shampoo will make sure that happens! It keeps away the gold and even helps hide roots in between trips to the salon. I got mine at Sally's Beauty Supply.
Drybar Detox Dry Shampoo- I've tried a lot of dry shampoo's and this is by far my favorite! It smells so amazing! It doesn't leave my hair oily, which I definitely don't need help with, and it gives my hair much needed volume! The only problem is that sometimes the cans the product is in malfunctions and it's not usable anymore, the last two I had I only got one or two uses out of. But, I love the product so much that I'm willing to give it another shot! Have you found any dry shampoo's that work like a charm? Do tell.
Rene Futerer Vegetal Mouse- I know, I know when I heard the word "mouse" I got scared too. It took me back to the days of hair "scrunching." Because my hair is naturally pin straight and fine, I could never master the art of scrunching my wet hair in middle school so it looked curly and wet all day, and crunchy too. But no need to fear, this is a different kind of mouse, don't use it for hair "scrunching," in fact, just don't try to scrunch your hair anymore, at all. Apply this product before blow drying and styling and you will see a mega difference in volume and hold. It's amazing, and I usually put it in my hair if I plan on curling it for the day. No crunch, either, it's fabulous.
Aveda Light Elements Smoothing Fluid- My past hair stylist got me to use this product and now I use it every single time I wash and dry my hair. I apply it while my hair is still wet and it works wonders. It tames frizz, smooths my hair, and makes it look healthier. What more could I want? You can even apply a small amount to tame your frizz in dry hair! It's great for colder, static filled days.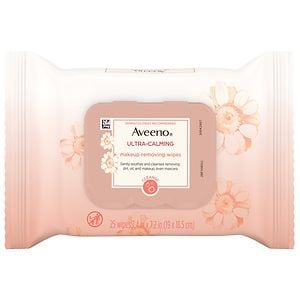 Aveeno Ultra Calming Makeup Removing Wipes- I love all Aveeno products. These wipes are perfect for when I'm being lazy (which is quite often) and don't want to wash my face, but still need to take my makeup off and somewhat clean my skin before bed. These are awesome for traveling too! They smell amazing, and really do the job. Sometimes I'll even wash my face and then use a wipe afterward to make sure I've got all traces of makeup off. Another tip, wash your face before bed!! This is crucial, if you're not doing it, do it, please! Your skin will thank you when you're 60, and if you're 60, keep on doing it. I can't preach this enough! You can find these pretty much anywhere, I get mine at Target.
Aveeno Clear Complexion Cream Cleanser- I have super acne prone skin, so I use Aveeno's clear complexion cleanser. What I love about this product is that it's enriched with soy and it's gentle on sensitive skin. It's clears up acne without drying out your skin, which is hard to find in a cleanser. This cleanser is creamy and has little exfoliating beads in it, which feels amazing and it's a big selling point for me! If you'd rather have a foam cleanser, try this one and
if you have perfect skin (lucky duck) and don't need acne cleanser, try this one. You can find these at most drug stores and grocery stores, and of course, Target.
Olay Complete All Day Moisturizer- I've been using this forever! I apply it all over my face and neck in the morning after I wash it. It's super moisturizing and has a little SPF in it. I couldn't go a day without it.
Olay Total Effects Anti-Aging Body Lotion- I know I've mentioned this product before, but this is how much I believe it. I use this lotion everywhere, even my face at night! It smells wonderful and it's really really moisturizing. Plus, it's never too early to use anti-aging products in my opinion. I also use and love Olay Quench Body Lotion.
John Frieda Frizz-Ease Secret Weapon- Okay, okay, one more hair product that I love. This product really is a secret weapon. I use it after curling my hair to smooth out the curls a little bit to make them looser and more messy looking. I wouldn't use any other finishing cream besides this one, it's for real the best! One bottle will literally last you a lifetime.
These are my trusty products that I have been using month after month on my skin and hair, pretty much all the time. Let me know if you try any, how you like them, and I would love to hear what products are your favorites!
*Don't forget to follow me on Bloglovin' to keep up with the latest posts*